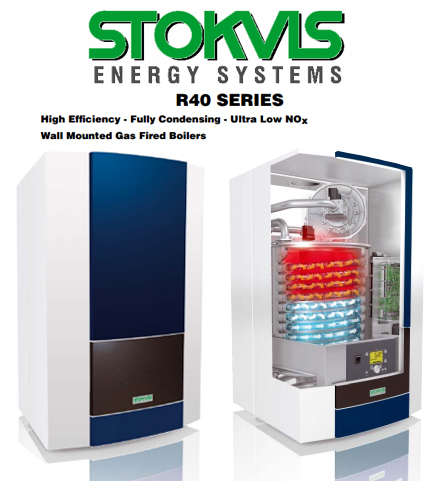 Stokvis R40 Boiler
The Stokvis R40 combines the highest degree of material quality with intelligent technology.
The double-helix heat exchanger made of stainless steel with an internal spiral, giving the boiler a permanently turbulent flow. This allows for a substantially optimised transfer of heat. As a result, the innovative gas condensing boiler is setting new standards of efficiency.
Another benefit of the Stokvis R40 water boiler is its lower hydraulic resistance, which enables the use of smaller, more economical circulation pumps. Equipped for a long life of heating, the use of stainless steel also guarantees extreme reliability. This is because the high quality of the material makes the heat exchanger much less susceptible to lime scale and pH values and therefore provides heat at a consistently high efficiency.
Heat exchangers of some conventional hot water boilers are made of aluminium; the disadvantage is that the faster material related wear and scaling, negatively impacts on the flow of water, as well as creating surface changes (patina) on the exhaust gas side, which impairs the transfer of heat to the water and thus decreases the efficiency.
With the R40, however, corrosion-resistant stainless steel guarantees much less wear and tear and thus offers consistently high efficiency over its entire life span. The Stokvis R40 is equipped with a double-helix heat exchanger. This construction provides for a split volume flow rate, minimises the loss of water pressure and thus enables the use of smaller pumps. The result is significantly lower electricity consumption and less wear on the heat exchanger.