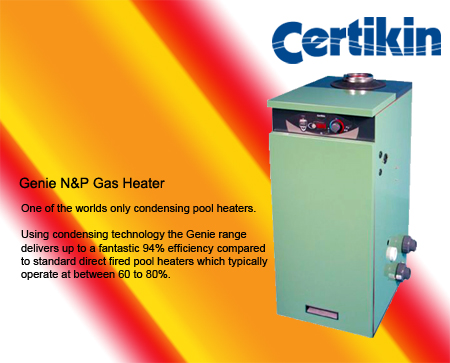 Key Features
Indirect oil/gas fired warm air heater
Natural gas (G20)
Propane (G31)
Oil 35 sec. & 28 sec.
Biofuel options available
Ducted applications offering 300, 600 or 1000 Pa external pressure alternatives
Painted to RAL6027. BS/RAL colours (special order).
Summer ventilation facility.
Complete with full operating controls.
Available as a weatherproofed version
Range of outputs from 366kW to 1025kW
Certikin Genie N&P Gas Heater
The Certikin Genie range of gas condensing pool heaters is one of the worlds few, highly efficient, economical, condensing pool heaters. The Genie S model now features a water-to-water heat exchanger with cupro-nickel tubes, which can provide long lasting durability even on salt-chlorinated pools.
Using condensing technology the Genie range can deliver up to an impressive 94% efficiency, when compared to normal, direct fired, pool heaters, which typically operate at between just 60 to 80%.
Features
– Available in 36kw (123,000btu) and 49kW (167,000btu) outputs
– Optional natural or LPG use (supplied for natural gas with conversion kit to LPG included)
– Tamper proof, lockable,  pool temperature display, shown in centigrade or farenheit.
– Up to 94% condensing efficiency
– Running cost typically reduced by up to 30%
– Environmentally friendly
– Modulating output for accurate temperature control & increased efficiency
– IP44 for installing either indoor or outdoor locations
– Quiet running
– Lightweight & compact design
– Pool connection for either left/right or right/left
– Simple condensate disposal connections left or right hand side
– Pre-plumbed c/w a double non return valve & filling loop
– Plastic flue kits, push fit horizontal and/or vertical up to 20m
– Honeywell CVI controls
– Multiple heater kit options up to 400kw output (8 heaters)
– CCP pool control panel compatibility
– Wall mounting kit available
Certikin Genie Repairs
Heathcrest are authorised Certikin heating installation and servicing engineers. If you have a problem fill out the form above and select Certikin Heating Enquiry from the list.